Permalink
Tonight saw the first Giants Live competition from Turkey where the commentators still insist that the top 3 of each of these 3 competitions go through to the final of World's Strongest Man which we all know is utter rubbish. The finalists of WSM are determined by 5 official qualifying competitions which start later this month, and the top 2 from each of those go through. Each year they insist that Giants Live gets you to the final of WSM, each year it's not true.
That out of the way, this competition featured quite a few of the big stars with the 2 finalists from last year's WSM; Zydrunas Savickas and Brian Shaw, being chased down by Stefán Sölvi Pétursson and Laurence Shahlaei. It was really good to see Shahlaei fighting for the lead at the start but he came unstuck when he couldn't complete even one rep in the overhead lift. This the commentators said was a surprise - really? Cast your minds back to the 2009 WSM final where Shahlaei came joint last in that event - it's always been a weak event for him. They should give me a call if they want accurate commentary :D Also in the overhead lift we saw Savickas get 6 reps to tie for the lead before he ran out of time. I think this was a miscalculation of time on his part as he looked a bit miffed that he didn't have time for a 7th lift and the outright win.
Brian Shaw had a slow start but soon came back and had an amazing Atlas Stones, as has become his speciality in recent years. When it came down to the final results, that blistering event win for Shaw wasn't enough as Big Z topped the table with 47 points, just 2 points ahead of Shaw. Pétursson did really well to get 3rd place because it looked like he'd hurt his shoulder in an earlier event.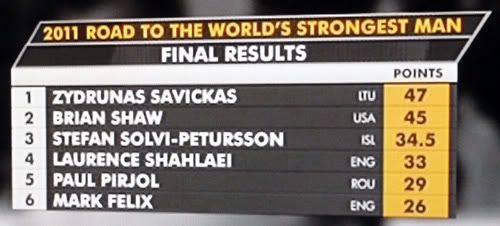 Big Z looked formidable in some events and looked to be coasting in others. If Shaw can avoid jetlag, which as WSM is in his native America this year he should, then he could be a very big threat to Savickas. Hopefully I'll get to see Derek Poundstone in the next Giants Live event which actually took place in London.
I'm currently watching a competition called Ultimate Strongman which features some of the older legends of Strongman including 61 year old Odd Haugen. The man overlooking the events is the legendary Magnus Samuelsson.